21st July 2004 Exclusive interview in "Get Real" on Channel News Asia at 8.32pm
9th August 2004 onwards Catch glimpse/actions of me in conquest of the Singapore Idol with debut on national day right after the parade on channel 5. Repeat Encore telecast of the debut is on Tuesday 17th August 2004 where u can see me strips and do "She Bangs" again! Check out the video clip at Steven Lim's Exciting Videos & Audios for my performance.
Around 25th Aug 2004 with four languages Main Lead in "Crime watch" as the murderer
25th August (Wednesday) English on Channel 5 at 8pm
27th August (Friday) Mandarin on Channel 8 at 8.30pm
16th October 2004(Sat) Taking part in Ch 8 PSC Nite 2004 Golden Peony first round Talent Contest at 8pm. Check out the video clip at Steven Lim's Exciting Videos & Audios for my performance.
25th October 2004(Mon) Main Lead In True Files 3 episode 1 (The Pulau Senang Trial) on Ch 5 at 10pm. Click here to see me in scene shots and synopsis of the episode. Catch True Files at every Mondays 10pm on Ch 5. I am a loyal fan of Mediacorp since young, and I am very honored to take part in their productions. Support local TV productions. <**Shown on 5th April 2005 (Tues) at 8pm on Ch 8 for Mandarin Version!!!!**>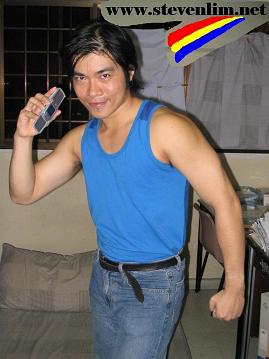 Prominent supporting role in Police and Thief series two, episode 2 (22nd February 2005 Ch 5 at 8.30pm) and episode 10 (5th April 2005 (Tues) Ch 5 at 8.30pm) as Henry Thia's sidekick, StarBuck. Special thanks to Min Xiu, who calls himself the casting guy which really gives me a very happy time acting in a sitcom. Watch out for debut dates!
3rd January 2005 and 10th January 2005 (Mon) (Mark it down and tell all your friends) Special performance and interview in Top Fun( Huan Le Dian Fong) as one of the dancing contestants wearing the original Singapore Troy Guy with armors image. I perform and entertain for you all to see and dun mind being the joke of the day just to bring a smile on your face. It is guaranteed to be so entertaining that you will scream and cheer. Channel 8 at 8pm. <*Catch repeats of Top Fun (Sr 7) on Every Saturdays 330pm on Ch 8 starting from 02 Apr 2005*>
2005 (Date unconfirmed) Steven Lim's exclusive interview and performance to be aired school wide in Ngee Ann Polytechnic in "Celeb Uncut" present to you by their very own TV station, CTV. It is very interesting to see young aspiring Mass Communication future producers/ directors taking professional roles in producing sincere production. I am really very honored and touched to be invited as a guest to their shows.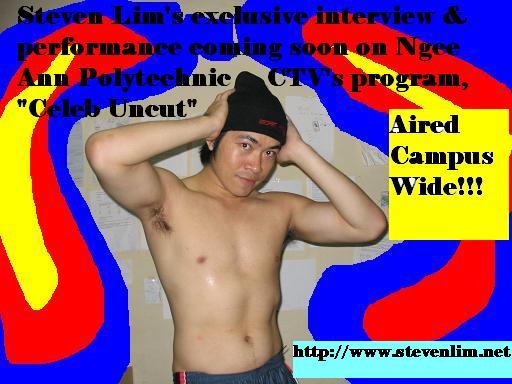 26th July 2005 (Tues) n Repeat on 27th July 2005 (04.15pm Wednesday afternoon) Steven Lim will appear as a Super Star Player on Channel U 8.30pm N repeat right after at 12mn in FoodBall Tic Tac Goal!!! [Shi Zhai Hao Qiu]. People were laughing at me but I am very happy to see them enjoying laughing at my antics! Must watch! Super nice! Please dun laugh until your stomach pain pain k? =D Watch it! Bryan Wong, Ben Yeo with hot beauty queen, Jaime Teo plus guest star hunk, IX Shen n babe, Xu Qi!
Two original Ngage games, FIFA 2004 and Sonic N for sales at SGD$20 each in excellent condition with box. Both games are very interesting. I already sold the handset to a dealer. Meeting in Ang Mo Kio area or Town area only. Call or SMS me at 93857300.
This website is dedicated to entertain you. Keep it going, Sponsor it today! For sponsoring info, click here
Liu Xing Yu